Aerial Performers
U.S. Navy West Coast Super Hornet Demonstration Team
Dedicated. Precise. Dynamic.
The Flying Eagles of VFA-122 are proud to serve as ambassadors for the U.S. Navy, showcasing America's stalwart strike-fighter and the rich history of Naval Aviation. The men and women of VFA-122 are proud to carry on America's tradition of excellence in the skies. We stand on the shoulders of giants: those who introduced the world to the Great White Fleet, the victors of hard fought battles at Midway and in the Coral Sea, the pioneers of the jet age, the brave astronauts who won the race to the moon and flew the Space Shuttle, and the countless men and women who have designed, built and maintained every aircraft flown by Naval Aviators. The result of such bravery, dedication and sacrifice is the Flying Eagles' Demonstration Team and VFA-122's ability to succeed in its mission of training the future of Naval Aviation. Thank you for supporting the Flying Eagles and for enabling the spirit of Naval Aviation to thrive.
Commander Ernie Spence
Commanding Officer, VFA-122
Visit VFA-122 Flying Eagles website
---
Jelly Belly

While most aerobatic performers have one basic program, Kent executes three storied acts that leave spectators mesmerized. These include a dead-stick (turning the engine off) routine from 6,000 feet and a rooftop landing on a moving RV! However, Kent is best known for a comedy act that features a detached aileron (wing flap) and a mesmerizing wingtip-scraping pass down the runway that you must see to believe. When Kent is at the controls of his plane, it is impossible not to watch him perform.
Kent loves to fly, but the audience is always his number-one priority. "If you can't entertain, you have no business being out there," he said. "The gratification is in knowing that people are enjoying themselves." Kent's humble nature and willingness to interact with fans make him a crowd favorite wherever he performs.
---
T-38's - USAF

The T-38 Talon is a twin-engine, high-altitude, supersonic jet trainer used in a variety of roles because of its design, economy of operations, ease of maintenance, high performance and exceptional safety record. Air Education and Training Command is the primary user of the T-38 for joint specialized undergraduate pilot training. Air Combat Command, Air Force Materiel Command and the National Aeronautics and Space Administration also use the T-38A in various roles.
---
C17 - USAF

The C-17 Globemaster III is the newest, most flexible cargo aircraft to enter the airlift force. The C-17 is capable of rapid strategic delivery of troops and all types of cargo to main operating bases or directly to forward bases in the deployment area. The aircraft can perform tactical airlift and airdrop missions and can transport litters and ambulatory patients during aeromedical evacuations when required. The inherent flexibility and performance of the C-17 force improve the ability of the total airlift system to fulfill the worldwide air mobility requirements of the United States.
---
United States Marine Corps Osprey
The Bell Boeing V-22 Osprey is an American multi-mission, tiltrotor military aircraft with both vertical takeoff and landing (VTOL), and short takeoff and landing (STOL) capabilities. It is designed to combine the functionality of a conventional helicopter with the long-range, high-speed cruise performance of a turboprop aircraft.
The United States Marine Corps began crew training for the Osprey in 2000, and fielded it in 2007; it supplemented and then replaced their Boeing Vertol CH-46 Sea Knights. The Osprey's other operator, the U.S. Air Force, fielded their version of the tiltrotor in 2009. Since entering service with the U.S. Marine Corps and Air Force, the Osprey has been deployed in transportation and medevac operations over Iraq, Afghanistan, Libya and Kuwait.
---
USMC Huey and Cobra Helicopters

It's the USMC's most versatile chopper, performing medevac missions one moment and down and dirty close air support the next. After more than 50 years, the UH-1 Huey is still going strong in the USMC, and it has never been more versatile or deadly than in its current UH-1Y "Venom" form.
The Bell AH-1Z Viper is a modern version of the first ever attack helicopter, the AH-1 Cobra. It is also called Zulu Cobra in reference to its variant letter. Since its introduction in the mid 1960s the original Cobra has been constantly improved and upgraded. The latest AH-1Z Viper is a result of H-1 helicopter upgrade program for the US Marine Corps. It was launched by the US Government in 1996 and has been won the Bell helicopter company. It is worth noting that the Viper was developed alongside the UH-1Y Venom transport helicopter under the same program.
---
Smoke-n-Thunder JetCar
Pilot: Bill Braack

One of the most riveting events at an Air Show is the moment Smoke-n-Thunder JetCar takes on a plane in a race to the finish line. Who is the fastest by land or air? Accelerating from zero to almost 400mph in just nine seconds, Smoke-n-Thunder is the fastest JetCar in the AirShow Industry.
The JetCar Pilot, Bill Braack, is a 20-year veteran of the Air Force Reserve. He knows there is no room for error when handling a car that is equipped with a 12,000 horsepower engine. As a plane flies in low and fast, Braack selects full afterburner and overtakes the plane in just seconds.
Bill Braack began drag racing in 1982 and three years later joined the Air Force and worked in aircraft maintenance. Longing to fly, Bill obtained his pilot's license in 1989 and began flying C-130's for the Air Force as a Flight Engineer.
Bill left active duty Air Force in 1991 and joined the Air Force Reserve, where he continued flying as a Flight Engineer on C-141's until retiring in 2005. He holds FAA ratings as a flight engineer & pilot, logging over 3,000 flight hours.
Visit Bill Braack's website
---
Pilot: Jon Melby
Aircraft: Pitts S-1-11B Muscle Bi-Plane
Jon Melby is an airshow pilot with over 35 years of flying experience. He is surface level aerobatic qualified, formation aerobatic qualified, and holds an Airline Transport Pilot rating. He has flown dozens of aircraft types and currently performs in a highly modified Pitts S-1-11B bi-plane.
At the age of 12, he had the opportunity to meet the legendary airshow pilot Bob Hoover at a local airshow. Bob Hoover's sincerity and great personality gave him the inspiration to pursue his dream of flying. When he was financially able, he made it a goal to solo in a non-powered glider before his 16th birthday. In only 8 flights, he achieved his goal by riding a bicycle 45 miles, on hot Arizona July summer weekends, to the nearest glider airport!
Now, flying "extreme" freestyle aerobatics at Airshows, Jon can encourage both adults and children to pursue their dreams, much like Bob Hoover did for him.
When not flying his airplane, Jon is a Technical Senior Manager for a major stock brokerage firm. Jon also enjoys many other activities other than flying. Jon plays Ice Hockey (since 4 years old), golf, snow skiing, playing guitar, rides his Harley Davidson Motorcycle, and enjoys to travel no matter the destination.
Visit Jon's website
---
Pilot: Vicky Benzing
Aircraft: Boeing Stearman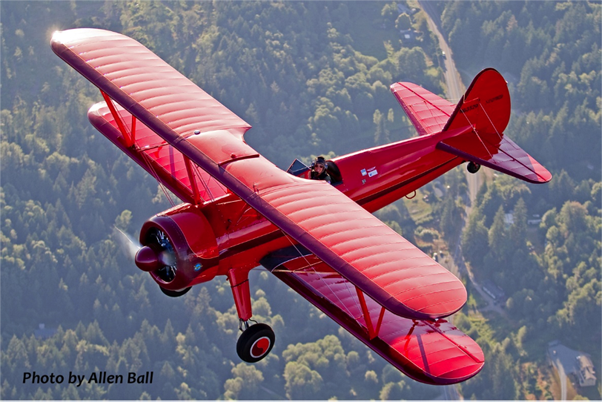 Born and raised in California, Vicky Benzing is an accomplished pilot, skydiver, aerobatic competitor, and Reno racer. With over 6000 hours of flight time and over 1100 parachute jumps, Vicky has a passion for everything airborne.
In 2005, Vicky began training with air show legend and trainer to the stars, Wayne Handley. Working her way up the ladder, Vicky competed in International Aerobatic Club competitions throughout the US. In 2006 she won first place in the Intermediate Category in both the Northwest and Southwest Regional Championships. After moving up to the Advanced Category she won third place in the 2008 and 2009 Northwest Regional Championships and placed in the top 10 finishers at the US National Aerobatic Championships in 2008. In between flying competitions Vicky began performing at local air shows. Today she focuses her energies on her air show performances where she continues to thrill and inspire audiences up and down the West Coast.
Visit Vicky's website
---
Red Eagles Formation Team
AVIATION IS A CRITICAL PART OF AMERICA'S HISTORY AND ITS' FUTURE.  The team is committed to inspiring youth and promoting aviation by safely demonstrating essential skills developed by our military for use in operations around the world and passing those skills onto the next generation of aviators. This reflects the philosophy of our sponsor Allegiant Air, "to promote safety through discipline, attention to detail and constantly striving to improve."  Nothing good is ever easy and to be the best requires constant effort.
The Red Eagles fly the Russian designed YAK-52 aircraft.  This was the basic trainer for Soviet forces.  It is rugged, reliable and relatively straightforward to operate.  This aircraft is powered by a 360 HP 9 cylinder radial engine (the Veneneyev M-14P).  Fuel consumption is relatively modest (12.5 – 19 gallons per hour).  This rugged performer is stressed to +7 to -5 Gs and can easily operate out of unprepared fields.  The "green-house" canopy provides excellent visibility and the tandem seating features dual controls.  When used in the training environment, the instructor occupies the rear cockpit.  The aircraft that you see today have been modified with smoke systems to enhance the performance for spectators.
Visit The Red Eagles' website
---
Announcer: Lt. Colonel Jon "Huggy" Huggins
This year's event will feature veteran airshow announcer Lt. Colonel (retired) Jon "Huggy" Huggins. In his 20+ years of airshow experience he's seen it all, and has been announcing air shows on the West Coast to great response since 2007. As a former USAF instructor pilot in the U-2 and T-38 (some serious, serious aircraft) at Beale AFB, Huggy has over 7000 military pilot hours under his belt, and more combined T-38 and U-2 flight time than any pilot in history. As much a historical aviation buff as he is a world-class pilot, we couldn't ask for a better announcer to take charge of our 9th Anniversary and Airshow's microphone.
---
Warbirds
What started out as a club for World War II fighter owners has now blossomed into an organization whose members own and fly the whole gamut of ex-military aircraft -- from the old biplanes, trainers, fighters, bombers, and liaisons of World War II to the early jets of the Korean War era to the aircraft of the Vietnam War. Even foreign aircraft are not left out. Former adversary's warbirds are now highly prized airplanes.
Visit Warbirds website
---
*As performers are confirmed they will be added, please check back to see what exciting acts will be at the 2017 AirFest!!